Damping Materials
>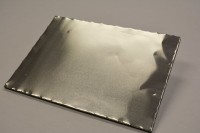 Description
Vibration Damping Composites
Application
Buckley Industries damping products provide excellent damping for a range of temperatures as low as -40 degrees F. Designed for aircraft skin and interior panels the sheets consist of a pressure sensitive adhesive, viscoelastic core, and a 5 mil aluminum cover to provide optimal damping. Our damping sheets meet FAR 25.853(a) and FAR 25.856(a) burn requirements. They can also be used for a variety of other damping requirements where vibration needs reduced, such as transportation or HVAC applications.
Advantages
Excellent bond strength
Easy to fabricate
Product design for each application
Available forms
Rolls or sheets
Available Products
Below is a list of our most popular damping composites. We do carry other damping products as well as building combinations of these products to help meet your damping requirements. Please call for more information on these products.
BA725P – Cold Temperature Damping Composite
BA825P – Mid To High Temperature Damping Composite
Learn more about our products