Exact-O-Board®
>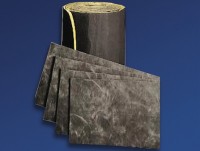 Description
Exact-O-Board® is made from strong, flame-attenuated borosilicate glass fibers bonded with a thermosetting resin. Exact-O-Board liners are formed to close thickness tolerances with smooth uniform surfaces. Their porosity and inherent structure results in highly effective thermal and acoustical control in a minimum amount of space.
Applications
Exact-O-Board® is a rugged, board-type fiber glass insulation specifically designed for use in air conditioning units and other air handling equipment applications. It is also suitable for other equipment applications requiring strength and durability, high thermal and acoustical values, space adaptability, and attractive appearance.
Type
HVAC Equipment Liners
Temperature Limit
+350°F (177°C)
Available Forms
Exact-O-Board liner is available in a choice of thicknesses and densities. Die-cutting and laminating processes can be supplied to meet specific customer requirements. The standard product is furnished in black with a choice of thicknesses and densities.
Applications
Air Conditioners
Furnaces
Other

HVAC

Equipment
Properties
High Thermal and Acoustical Performance
Resistant to Air Erosion
Close Thickness Tolerances
Excellent for Minimum Space Requirements
Ease of Handling, Fabrication and Installation
View the complete Exact-0-Board Data Sheet
View the Exact-0-Board Safety Data Sheet
All information provided is © Johns Manville.
Learn more about our products