Filter Foam
>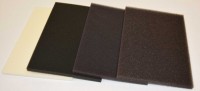 Description
Reticulated Foam
Applications
Common applications for filter foam include speaker covers, filters, and cleaning sponges.
Advantages
Filter foam is good-quality foam with a medium/firm feel. Filter foam has a high dust collection rate, while still providing high air flow. It operates as a depth-loading filter, as opposed to a surface-loading filter, essentially trapping dust particles with its cells. It is the ideal material for applications where porosity, surface area and low-density are integral for success.
Type
Porous, low-density polyurethane foam
Available Forms
Filter foams are available in bun, roll and sheet forms, pores ranging from 10 PPI (coarse) to 100 PPI (fine) and those colors most requested: Charcoal (black) and white.
Density ranging from 1.20 lb/ft to 1.5 lb/ft
The different pore sizes are shown in the picture below, comparing 10 PPI (bottom piece) and 80 PPI (top piece) filter foam.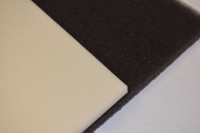 Properties
Compressibility
Cushioning
Energy absorption
Flexibility
Light-weight
Low Thermal Conductivity
Mildew-resistance
Resiliency
Sound absorption
Vibration Dampening
Learn more about our products