Micro-Fiber® Type 475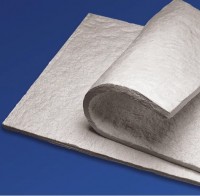 Description
Micro-Fiber® Felt is formed from borosilicate glass fibers using a water deposition process. The result is a clean, flexible, binderless felt with excellent handling qualities and not dimensioned by thickness. Micro-Fiber Felt is produced from Type 475 glass.
Applications
Micro-Fiber® Felt is intended for use in applications where highly effective thermal and acoustical insulation is required in a medium temperature range. Primary applications include thermal/acoustical insulation for aircraft and jet engines. Type 475 felt is intended for continuous exposure to hot face temperatures up to 900°F.
Advantages
Micro-Fiber® Is lightweight and flexible, easy to handle and apply. Made from borosilicate glass fibers, this felt features excellent chemical stability. The fibers of Type 475 felt are relatively unaffected by moisture or water and , under normal use, will not accelerate or cause corrosion.
Type
Binderless Felt
Temperature Limit
900°F (482°C)
Available Forms
Micro-Fiber® Felt is available in sheets 36" width and 60" or 120" length.
Micro-Fiber® Felt is manufactured based on areal weight and is not produced or dimensioned to an exact thickness or density. Available in 3, 4, and 6 pcf.
Applications
Aircraft Component
Insulation Aerospace Jet Engine
Insulation Air and Gas Filtration
Media Cryogenics
Properties
Lightweight
Flixible
Easy Workability
No Outgassing
Excellent Acoustical Properties
Excellent Chemical Stability
View the complete Micro-Fiber® Felt Data Sheet
View the Micro-Fiber® Felt Material Safety Sheet
All information provided is © Johns Manville.
Learn more about our products