Microlite® AA Fiberglass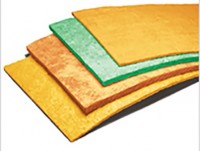 Description
Microlite® AA Blankets
Applications
Microlite® AA blankets provide optimal thermal and acoustical insulation for applications up to 450°F. They are particularly well suited for insulating the fuselage wall cavities of commercial and private aircraft.
Advantages
Microlite® AA blankets provide superior acoustic and thermal performance per unit weight of insulation used. They do not support biological growth or vermin. They also provide excellent stability with age.
Type
Flexible Blanket
Temperature Limit
+450°F (232°C)
Available Forms
Microlite® AA blankets are available in a variety of densities. The standard roll width is 72", but can be cut down to smaller rolls per customer request.
Applications
Aerospace
Fuselage Wall Cavities of Aircraft
Properties
Superior Acoustics
Water Repellent
Low Heat Transfer
Biosoluble Chemistry
Noncombustible
Excellent Dimensional Stability
Exceptionally Low Smoke and Toxicity
View the complete Microlite® AA Data Sheet
View the Microlite® AA Safety Data Sheet
All information provided is © Johns Manville.
Learn more about our products