Microlite® B Blanket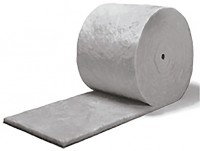 Description
Microlite® B Blanket is a lightweight, flexible, insulation material. This blanket is formed from flame attenuated borosilicate glass fibers and bonded with a thermosetting phenolic resin binder to provide the blanket with strong dimensional stability.
Applications
Microlite® B Blanket is designed for applications in which good thermal and acoustical properties are required and where temperatures are not in excess of 450°F (232°C). It is ideally suited for use in aircraft and other equipment applications where the higher performance characteristics of Microlite® AA are not required.
Advantages
Microlite® B Blanket is light in weight, excellent sound absorbing properties, and does not deteriorate with age. The non-cellular and non-hygroscopic glass fibers will not support mold, mildew, fungus, or vermin. The exceptional resiliency of the glass fibers prevents vibrational settling.
Type
Flexible Blanket
Temperature Limit
450°F (232°C)
Available Forms
Microlite® B Blankets are available in a variety of densities, weights, thicknesses, roll lengths, and widths. The standard roll width is 36" and 72" and standard roll length of 100'.
Applications
Properties
High sound Absorption
Flame Resistance
Low Heat Transfer
Good Handleability
View the complete Microlite® B Data Sheet
View the Microlite® B Safety Data Sheet
All information provided is © Johns Manville.
Learn more about our products