Polyethylene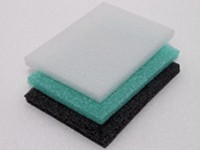 Description
Polyethylene foam in sheets or rolls.
Applications
Polyethylene foam is generally used for cushioning, blocking, bracing or surface protection. This material can be purchased in planks from 0-6" thickness or rolls from 1/32" to 1/2" thickness. The material can be fabricated to numerous shapes from end caps to case inserts. The material is available in a 1.2#, 1.7#, 2.2#, 4.0#, 6.0#, or 9.0# density.
Advantages
Excellent cushion curves.
Lightweight
Water resistant
Low abrasive
Type
Polyethylene
Properties
Durable
Flexible
Low cost
Excellent cushion curves
Non-toxic
Learn more about our products