Q-Fiber® Felt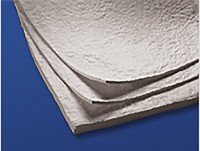 Description
Q-Fiber® Felt is formed from 98.5+% pure silica fibers using a water deposition process. It is clean, flexible, without binder of any kind, and possesses the thermo-physical and chemical stability of pure silica. Q-Fiber® Felt is effective in a wide range of applications. It is unaffected by moisture, will not accelerate or cause corrosion, and is inert to most acids.
Applications
Q-Fiber® Felt is useful in many applications requiring steady state heat resistance to 1800°F. Intermittently, it may be used above 1800°F. It provides excellent thermal insulation for aircraft, missiles, spacecraft and special industrial application. It can also be used to provide reinforcement for high-temperature plastics such as exhaust nozzles, nose cones, and aerodynamically heated surfaces. Q-Fiber is very effective in cryogenic applications.
Advantages
Q-Fiber® Felt is unaffected by moisture. It will not accelerate or cause corrosion. The chemical composition of Q-Fiber Felt makes it incombustible and resistant to most acids. Q-Fiber possesses the lowest thermal conductivity value per unit weight of any commercially available high temperature fibrous insulation. The long fibers trap and absorb undesirable noise to provide excellent sound absorption.
Type
High Purity Felt
Temperature Limit
1800°F (982°C)
Available Forms
Q-Fiber® Felt is only available in sheets of 36" width and 60" or 120" length
Applications
Moisture Resistant
Noncorrosive
Low Thermal Conductivity
Resists Thermal Shock
Low Shrinkage
View the complete Q-Fiber® Data Sheet
View the Q-Fiber® Safety Data Sheet
All information provided is © Johns Manville.
Learn more about our products