Quietflex Insulation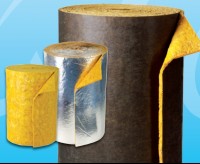 Description
Quietflex Insulation
Applications
Quietflex insulation is used in Acoustical Panels, HVAC Equipment, or other application where a high tensile strength, high acoustical, and thermal performance is necessary. Quietflex is a textile type glass fiber that has been chopped to 2-6" in length and bonded with a thermal setting resin. The glass fibers produce a random fiber orientation that produces an excellent strength, resiliency, thermal, and acoustic performance.
Advantages
High Thermal Efficiency
High Acoustical Performance
Excellent Bond Strength
Increased Tensile Strength
Excellent Dimensional Stability
Type
Glass Fiber
Available Forms
Rolls or cut into numerous shapes or sizes to meet end user requirements.
Properties
Variety of Densities
Un-faced or Faced
Easy to Fabricate
View the complete Quietflex Data Sheet
View the Quietflex Safety Data Sheet
All information provided is © Quietflex.
Learn more about our products