SG SERIES SPIN-GLAS
>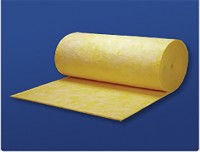 Description
SG Series Spin-Glas® appliance insulations is an efficient thermal and acoustical blanket made from rotary-process glass fibers bonded with a thermosetting resin.
Applications
SG Series Spin-Glas® was developed specifically for freezers, refrigerators, and other low and medium temperature appliances operating up to 350°F (177°C). Also ideal for use in double-wall HVAC equipment.
Advantages
The range of density and thickness of SG Series Spin-Glas permits the optimization of thermal, acoustical, and space requirements.These resilient fiber glass blankets resist damage and are easily cut with a knife, shear, or steel rule die. The blankets do not contribute to or absorb odors and carry UL Fire Hazard Classification 25/50. The insulation readily conforms to curved and irregular shapes.
Type
HVAC Equipment Liners
Temperature Limit
350°F (177°C)
Available Forms
SG Series Spin-Glas® is available in rolls in a wide range of thicknesses and densities. Densities are adjusted to meet thermal conductivity requirements. In addition this product can be provided specially cut shapes and pieces to particular customer specifications.
Applications
Refrigerators and Freezers
Transportation
Water Heater Retrofit Kits
Dishwashers

HVAC

Equipment
Other Appliances
View the complete SG Series Data Sheet
View the complete Johns Manville Safety Data Sheet
All information provided is © Johns Manville.
Learn more about our products