Tuf-Glas®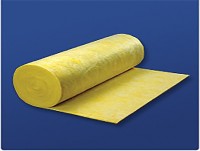 Description
Tuf-Glas™Fiber Glass Insulation is a lightweight, highly resilient, blanket-type insulation made from borosilicate glass fibers bonded with a thermosetting resin. Tuf-Glas is designed to provide a rotary product with good core strength. Tuf-Glas can be used in a variety of applications that require good thermal and acoustical efficiency in a minimal space.
Applications
The glass fibers in Tuf-Glas insulation are noncombustible and non-hygroscopic. Tuf-Glas does not support fungi or vermin, and is unaffected by oil, grease, and most acids. Tuf-Glas meets typical industry standard for tensile and core strength, which makes the product resistant to damage during lamination and installation.
Advantages
Because of its resiliency and flexibility, Tuf-Glas blankets resist settling, breakdown, sagging from vibration, and damage from impact. Tuf-Glas insulation conforms easily around corners and curved surfaces and is readily cut in die presses or with a knife.
Type
HVAC Equipment Liners
Temperature Limit
350°F (177°C)(unfaced)
Available Forms
Available in different thickness and densities.
Applications
HVAC

Equipment
Fan Coils
Furnaces
Air Conditioners
Appliances
Other Equipment
Properties
Good Thermal Efficiency
Good Acoustical Performance
Good Tensile Strength
Good Core Strength
Uniform Density Distribution
Excellent dimensional Uniformity
Ease of Handling
View the complete Tuf-Glas™ Data Sheet
View the Tuf-Glas™ Safety Data Sheet
All information provided is © Johns Manville.
Learn more about our products