Unbonded Microlite® B Blanket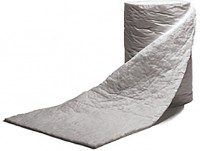 Description
Unbonded Microlite® B Blanket is a lightweight, binderless insulation blanket designed for thermal and acoustical applications in which intermittent temperatures may reach as high as 1000°F (538°C). This loosely felted, non-resilient blanket is formed from flame attenuated borosilicate glass fibers without binders and oils and is not dimensioned by thickness.
Applications
Unbonded Microlite® B Blanket eliminates outgassing or binder vaporization in such applications as cold face insulation in thermal fabrications for aircraft engines or thermal insulation in solar collectors. In all applications Unbonded Microlite® B Blanket provides excellent thermal and acoustical performance.
Advantages
Unbonded Microlite B blanket provides low heat transfer as well as exceptional sound absorbing characteristics. Is adaptable to flat, curved and irregular surfaces and are readily cut with ordinary tools.
Type
Binderless Blanket
Temperature Limit
850°F (454°C)
Available Forms
Unbonded Microlite® B Blanket is manufactured by weight. These blankets are available in standard widths of 36" and 72" and standard roll length of 100'.
Applications
Aircraft Engines
Solar Collectors
Properties
No Outgassing
Low Thermal Transfer
High Temperature Service
Excellent Thermal Performance
View the complete Unbonded Microlite® B
View the Unbonded Microlite® B Safety Data Sheet
All information provided is © Johns Manville.
Learn more about our products